"Peace, justice, love, and freedom are not private realities; they are not only internal attitudes.  They are social realities, implying a historical liberation" 
(Gutierrez, 1988, p. 167)

INNOVATIVE. SYSTEMIC. PARTNERSHIPS
We are an international firm of psychologists and consultants who partner with human service organizations to bridge the health and wellness of individuals and systems. We balance system needs while valuing cultural uniqueness to make a tangible difference on client outcomes. 
Today and every day we all need to remind ourselves of who we are. Our organizational identity is rooted in cultural uniqueness.  ISP International is a unique company in that our organizational identity was formed out of privileging our personal cultural uniqueness. For us, we cannot separate the two. We are culturally unique in our DNA-professionally and biologically. We are women.  We are people of color.  We are so much more than labels placed upon us.  It is from this place that we can not remain silent as our country and the rest of the world grapple with healing from a divisive political season in the United States. Of course, historically politics can be divisive. However, in 2016 in America the divisiveness was fueled by oppression.  That is a sad reality.
The Partners at ISP are dedicated more than ever to use our platform, education, and privilege to promote healing, transcendence from hate, and peace. In the next few blogs you will hear from Drs. Marissa, Uma, and Sujata as we reflect on the value of unity and creating a world in which hate looses power.
Dr. Marissa N. Coleman ~  Jamaican, Norwegian, and Danish
This week I am processing my role as a professional to hold space for those hurting from this election- on both sides of the aisle. I am also struggling to find time and energy to process how this election season as impacted me personally. I hope to share a little of both parts of my process in this journal entry.
Professional Process:
Last month I wrote briefly why I believe we need a psychology that breaks our hearts. Liberation psychologists, Drs. Mary Watkins and Helen Shulman, inspired the backdrop of my doctoral dissertation in 2009 and they continue to inspire my professional vision and identity.  Below is an excerpt from their powerful book Toward Psychologies of Liberation.
We need a psychology that breaks our hearts, because only that kind of psychology could awaken us to our entanglements in strategies of dissociation, to the despairs of trauma, to grief from mourning, and to potential joy in restoration and healing. Only such a psychology could move us from a fatalism that unconsciously yields to the status quo, to tentative hope for gradual transformation of ourselves and for the communities where we are standing and placing our advocacies (p. 31).  
This election season has, at times, enraged me, hurt me, and saddened me but it will not silence me. I believe in the narrative of our country- that out of historical trauma and terror, unity and healing is possible. My heart goes out to each one of us that felt scared on the morning of 11/9.  My heart also goes out to those of us that felt pleased with the election results.  There was fear on both sides of the aisle leading into Super Tuesday. Our country's heart was already broken. My dedication to a psychology of liberation continues because I believe there is joy in restoration and healing.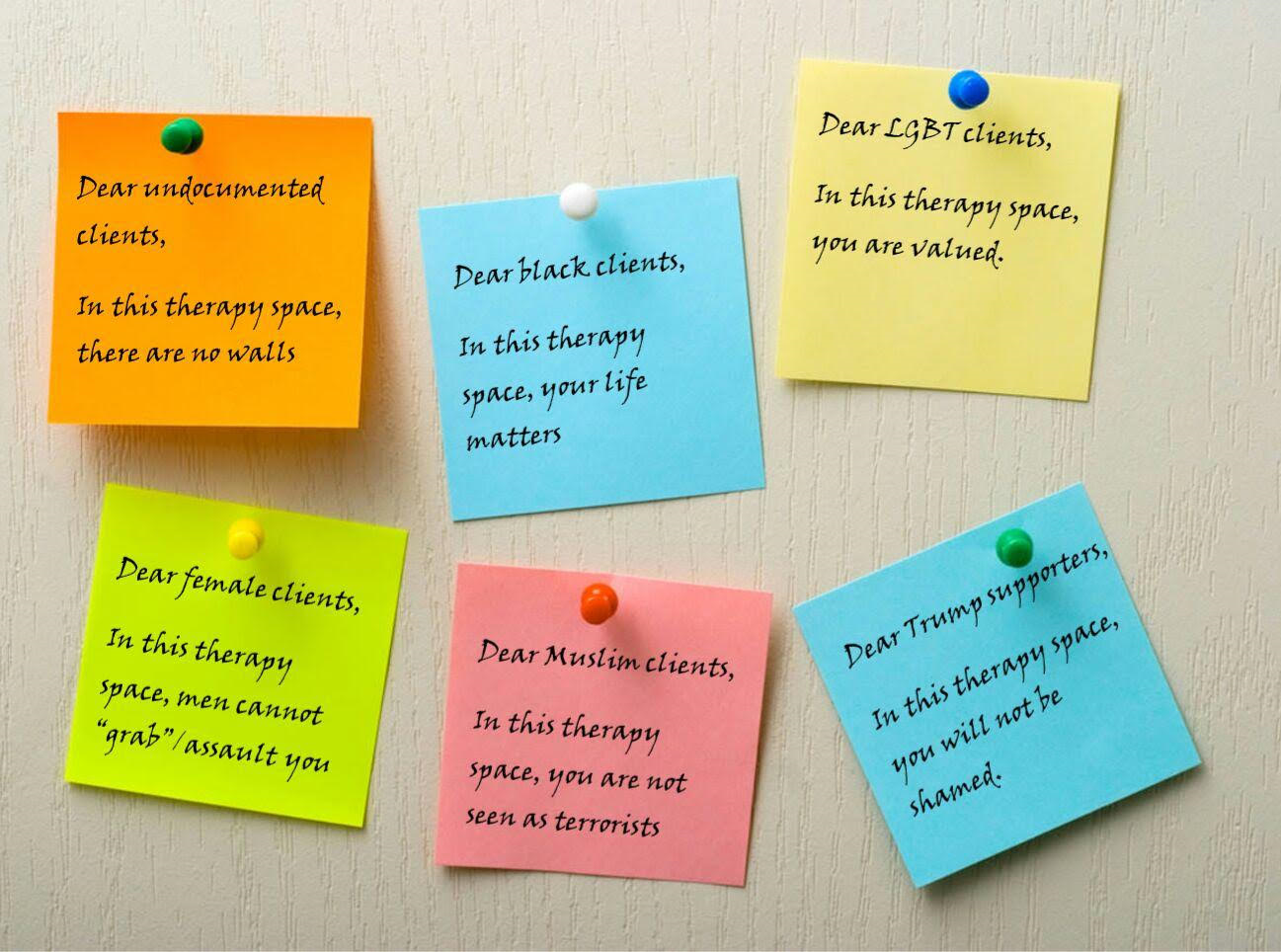 Personal Process:
My personal connection to this election is deeply rooted to my relationships.  I've been intentionally building a diverse and multicultural community for myself and my family most of my life.  Below you will get a glimpse of how the process of authentic community building has changed my life.  I encourage everyone to build authentic connections with people outside of your natural community.  If there is a community that scares you or intrigues you, step outside of your comfort zone and build a bridge.
*Names changed to enhance privacy*
Campus housing, the most important of college lotteries, placed together five women from drastically different walks of life.  An outspoken, "music head" from the west side of Chicago, a quiet mathematician with a verbose vocabulary, a naïve, Bharatnatyam dancer from the North Shore, an opinionated and devote Muslim, and me—a sheltered athlete from the Minnesotan suburbs.  The product was less than average quiz scores for some and a crash course in cultural dynamics for all.  As I turned the door knob of my sophomore year apartment the smell of Indian curry and the sound of old school R&B overwhelmed me; immediately making me anxious, as I passed the threshold of what would become the most life changing year of my young adult life. 
 I began my sophomore year at DePaul University hoping to simply "get by" with my new roommates but instead I gained companionship that shattered my personal biases.  Late night conversations revolved around anything from the similarities between Christianity and Islam to everyone's favorite dance move.  I acquired a tuition free education of religion, race, family and culture.  We shared each other's secrets, family recipes, cultural histories, religious questions and professional dreams. 
The spirit within our small home was one of curiosity, acceptance and growth.  For example, my personal faith was deepened as a result of critical conversations that I had with, Naureen, a Sunni Muslim who was a first generation college student in her family.  During Ramadan I joined Naureen for Iftar and it was while viewing her fervently pray did my spiritual identity revitalize.  Difficult discussions about my biracial heritage with, Anika, forced me to realize that she had no context in which to understand me.  There simply were not people in her community that looked and sounded like me.  Her challenging questions about my biracial identity "confusion" forced us both to expand our worldviews and recognize the roles our sheltered communities played in our cultural ignorance.  These experiences, among others, afforded me insight into other individuals' assumptions about me and how they make meaning of my life experiences.  
 My perspectives of race, culture and community were transformed and strengthened.  I learned to become comfortable with discomfort.  It is the uncomfortable situations throughout my development, such as this one, that have been my most challenging yet rewarding experiences.  It is during the times that my identity was stretched did I truly appreciate and understand the significance of raw human connection. 
I now look beyond the unfamiliar and connect with the soul of individuals foreign to myself.  Whereas many people may feel most secure in familiar environments, I thrive off of the adventure of exploring new cultures and connecting with new friends.  The ease at which I can navigate unfamiliar clinical situations and connect with individuals different than myself is one of my greatest personal and professional assets.  I am confident in my belief that humanity is far more similar than we are different—in fact it is a fine line that separates us all. 
~Marissa